Sedation Dentistry – St Johns, FL
Relax All Through Your Dental Treatment

Does the idea of feeling relaxed at the dentist's office seem far-fetched to you? You're not the only one; many patients, regardless of age, find themselves apprehensive for one reason or another when it comes to receiving dental care. Fortunately, Dr. Cohen can offer both oral conscious sedation and nitrous oxide sedation for your comfort. Don't let dental fears stop you from keeping your smile healthy! Call us today to ask about sedation dentistry from our St. Johns, FL dentist at your next appointment.
Why Choose Julington Creek Family Dentistry for Sedation Dentistry?
Sedation for
Children and
Adults
A Dentist Who
Cares About
Comfort
A Team That's Always Gentle and Thorough
Oral Conscious Dental Sedation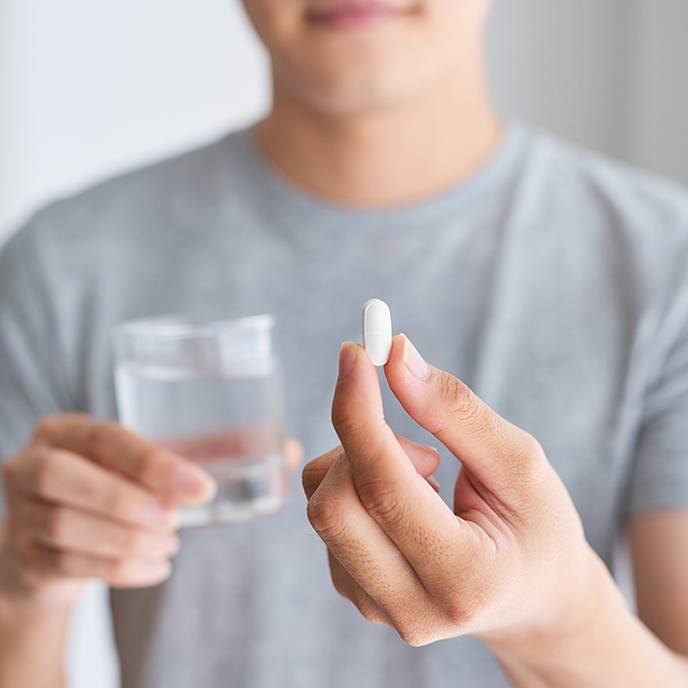 You'll be given some medication before the appointment even begins. At a predetermined time, you'll take the medication so that by the time the treatment starts, you'll be in such a relaxed state that you might find yourself dozing off (although you can be awakened easily; the sedative is not meant to put you to sleep). You also might not even remember the treatment at all afterwards, which many patients with dental phobias consider to be an advantage. Don't forget to arrange for someone you trust to drive you home.
Nitrous Oxide Sedation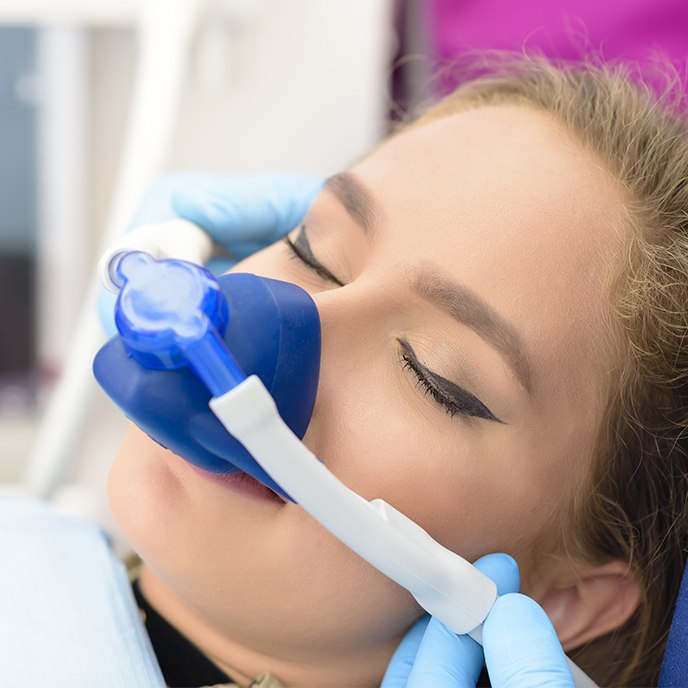 Nitrous oxide is commonly used in dental offices throughout the country to eliminate anxiety and help patients feel comfortable during their dental appointments without putting them to sleep. We can adjust the level of nitrous oxide you're receiving during your treatment for your comfort as well as your safety. The effects wear off in just a few minutes after the sedative stops being applied, so you can go ahead and return to your normal schedule after you're done at our dental office.
Who Is a Good Candidate for Nitrous Oxide Sedation?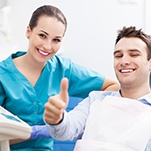 One of the best things about nitrous oxide sedation is that nearly any patient can be considered a good candidate. From children, to teenagers, to older adults, nitrous oxide is a safe and effective form of sedation dentistry for the majority of patients. We typically recommend it for those who:
Need some help relaxing in the dental chair, or feel somewhat anxious about dental treatments
Don't respond very well to numbing medication alone or have a low pain tolerance
Have neck, back, or shoulder pain that makes sitting in the dental chair uncomfortable
Have very sensitive teeth or an overactive gag reflex
Plan on undergoing a lengthy or complex procedure
However, nitrous oxide sedation is not a good choice for everyone. The only way to determine if it's right for you is to come see us for a consultation. There, we'll review your medical history and discuss your concerns to ensure that nitrous oxide is the safest and most effective option for you.
How Does Nitrous Oxide Sedation Work?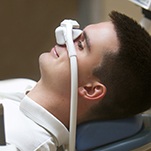 First, we'll place a small mask over your nose. You'll inhale a colorless, odorless gas through it, and within moments, you'll begin to feel light and airy. Many patients have described the sensation of feeling as if they're in a dreamlike state. Nitrous oxide sedation will not put you to sleep. You'll remain conscious enough to answer basic questions and follow simple instructions. However, you'll be completely oblivious to the sights, sounds, and sensations that would typically cause you distress.
All throughout your treatment, our team will closely monitor your vital signs. If needed, we can adjust your level of sedation at any point for your safety or comfort.
Aftercare for Nitrous Oxide Sedation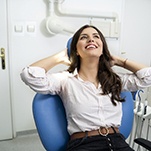 Once your treatment is complete, we'll remove the mask from over your nose. Within just a few minutes of breathing in regular air, you'll return to your normal state of alertness! A very small percentage of patients feel a little queasy for some time after using nitrous oxide sedation, but the vast majority report no side effects at all. In fact, you should be fine to drive yourself home and continue on with work, school, or whatever you have planned that day without interruption!